Tips to guarantee you don't hate your family pictures
This post has been brewing for over a year now – it's about time I wrote it! Here are some tips that, I believe, will help you have a successful portrait session with your family. Be sure to comment if you have more tips, below!
Pick the right season for your photos. If you're expecting sweeping landscapes with green lush fields and gorgeous purple sunkissed mountains in the background, we can not get that photo in the middle of January. It isn't realistic. That photo, however, would be a realistic creation in late summer.
If mud, brown dead grass and leafless trees is your thing, plan a November or February shoot! (Obviously, I'm saying, let's avoid November and February… and really the months in between unless you're going for a festive snowy lodge look, cover of the November LL Bean style, or something… then the winter is the clear choice.)
Hire the right photographer for you. Here are a few things I personally would look for in a photographer.
Style. Does the style shown in their portfolio reflect our style as a family? They may be an amazing photographer but you will not love the photos if your styles did not mesh. If a lifestyle/candid approach is what you're after, hiring someone that specializes in formal posed portraits does not make sense. And vice versa.
Personality. Pick someone you can relate to. You don't have to know them well to know their personality and general vibe – spend time reading their blog, social media posts, etc. Personally, I'd rather work with someone who is going to be funny and relaxed then someone who's really formal and reserved. It'll be hard for the kids (and, heck, the parents too) to feel loose and comfortable if the photographer is not a fun crazy person. Fun and crazy may not be important to you, so consider what vibe you put out and try to find someone that will "get you".
Professionalism. That doesn't mean your photog wears a pantsuit to your shoot. I'm referring to the way they conduct their business, the way they treat you as a client and person, and the outcome of their shoots. Are they reputable? Do they come recommended from friends you trust? Do they pay taxes on their earnings? I'm not saying ask if they pay taxes, but you should be able to tell if they are running a legit business or not. And if it's a legit business, odds are you're going to be much happier than if you went with someone who just doesn't care about going to jail for tax evasion and fraud – I think it's safe to assume they aren't going to care much about you and your photos, either.
Portfolio. Spend time looking at past shoots. Make sure you are really aware of what this photographer likes to shoot and what sort of images are in their portfolio. Can you imagine your own family in those images? If not, you probably need to keep shopping.
Quality. This goes along with style and professionalism, but don't hesitate to ask to see some finished products before you hire. If a coffee table book is really important to you, don't go into that blind – make sure you know they are capable of providing you with a beautiful coffee table book before the booking is even finalized. If getting all digital images is important to you, make sure that's something they offer and that it fits your price point. Ask to see a full session, start to finish, so you know what you'll be receiving when you pay for the digital files.
Flexibility. Hire someone that is understanding. If your kids are throwing up the day of the shoot, know beforehand what your photographers policy is and make sure they are flexible.
Trust the photographer. Once you've chosen the photog that is the right fit for you, trust them! Go into your photos with the expectation that they are going to be awesome, but without specific expectations of the specific poses and specific photos that are going to happen. You will be disappointed if you've created a vision in your head that either a) isn't communicated to the photographer and b) isn't realistic for the shooting circumstances. Your photographer should have experience working with a variety of circumstances and will work the situation to your absolute advantage – sometimes, that means that specific things you'd planned to have happen just don't happen because it wasn't realistic under the circumstances. So, be loose. Be flexible. You will be happier with your photos if you trust the vision of your photographer. You hired them for a reason, right? You loved their other photos. And I promise you, those photos didn't happen the way they did because the client was directing the shoot. When the client trusts the photographer, that's when the magic happens. If you have a hard time giving up control (hello, I totally understand because I'm a control freak) then hiring a custom photographer may not be for you. It only works if you can trust your photog and give them creative control. Does that mean you can't have opinions or ideas? Of course not – but leave those for the planning meeting or booking phone call, try to curb them during the shoot itself. If there's something very important to you that just isn't happening, speak up – but again, be realistic.
Don't be a cheapskate. I think the biggest mistake people make is thinking that price is most important, but it isn't. Quality is most important. Sure, it's going to cost a little more to work with a true professional, but it's also going to be done right the first time. Always, when it comes to your family's memories, go with quality. You won't regret it! If you've purchased the digital files and plan to do your own prints, do not print them at WalMart for the love of all that is holy. Head to mpix.com and get yourself some great quality prints – they aren't even that expensive. Seriously. Don't be a cheapskate. This is your heritage, this is what you're leaving for posterity! Do it right! (Do I sound like a drill sergeant? That's totally what I was going for… That or Oprah Winfrey. I hope I'm really inspiring you right now.)
Coordinate, don't match. So, I'm probably about to offend a lot of people here but it has to be said. White shirts and jeans was a hit in the early 90's. Black polo's and khakis was a GAP campaign that affected family portraiture for the entire decade of the 90's. Everyone in the same outfit was awesome… in the 90's. Do you realize that the mid-90's were 20 years ago? Tweennnnnttttyyyyyy. That, folks, is outdated. Modern family portraiture is all about coordinating, not matching. While that sounds really intimidating, it's actually way easier then finding the same outfit in each individual family members size! I promise! Some quick tips for coordinating – not matching…
Pick a neutral. Look around your home and see what neutral you're using the most, because you'll want the prints to coordinate and look good in your home. Grey is my favorite.
Pick a main color. Or colors. Again, make sure it's a color you actually love to decorate with because let's hope it's going to be all over the house once your prints arrive. If you aren't into color, pick another neutral.
Make sure everyone has shades (note, not necessarily the same shade) of the neutral and a shade of the main color(s) (again, not necessarily all the exact same shade of that color – a variety will add interest) and don't hesitate to mix prints and patterns. It sounds crazy but this will create a very pulled together, well coordinated wardrobe that shows personality, texture, depth and a modern but timeless style. No one is going to identify your normal outfits as 2014 the way they'll identify all white shirts with jeans with the early 90's. There doesn't have to be a huge dynamic difference between each person, just don't all wear the same outfit.
I have created a Pinterest board all about this topic, head on over for some inspiration.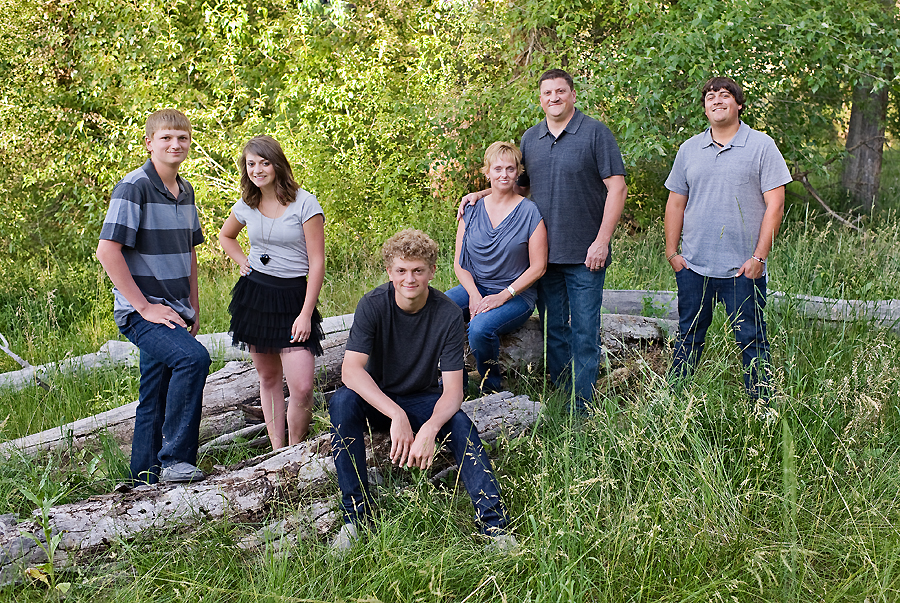 Loosen up and have fun. Don't we all want a real in-the-moment shot with our kids? I know I do! That only happens if you are willing to let your guard down and get comfortable.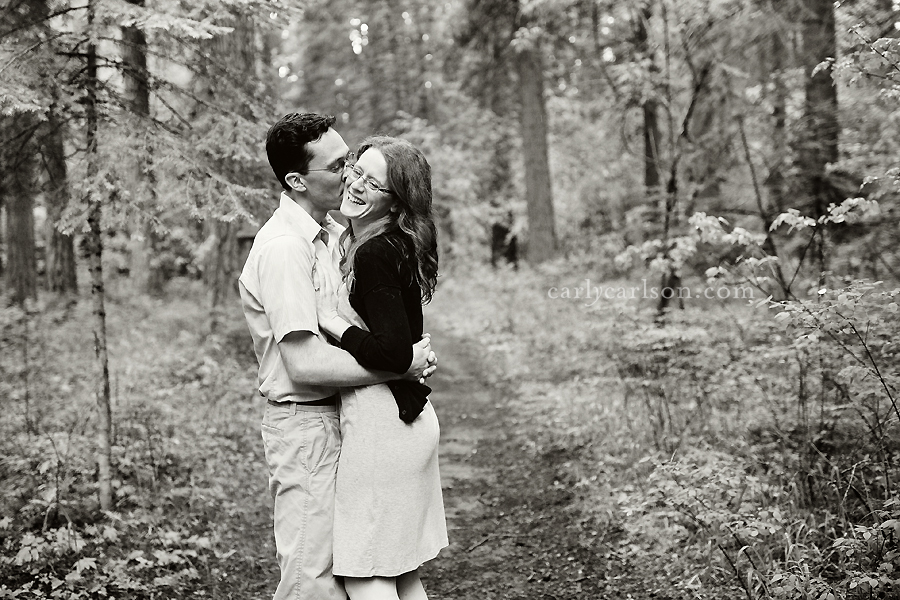 Going with the flow is important as a couple, too! This shot took, literally, 30 seconds and they didn't even know I was taking the photo. We were back on track with the family in no time – totally worth it!
A few quick tips for moms of young children. Be aware of nap time, how your kids do in the car (so you won't want a location 40 miles away if they are going to be super cranky once you get there), make sure the kids are well fed and that circumstances are as good as they can be for happy children. This still won't guarantee they'll be thrilled with a stranger holding a huge camera in their face, but it will at least help. Leave the entourage at home, the photographer will get more natural expressions out of the kids if there aren't a pack of human monkeys acting like goofballs behind them. Just trust me on this one… it rarely works. Too much pressure on the kids to perform a certain way is sure to sabotage an otherwise successful shoot. Pack snacks that won't spike their blood sugar and make them crazy. Bring water bottles. Promise them Happy Meals.
And for moms in general. Try not to knitpick your kids expressions or attitude. If that's a fake smile, it won't get any more natural if you draw attention to it. Let the photographer take them to the side for some one on one time to get more comfortable. Some of the best and most authentic portraits are going to happen when no one is pressuring them to pose or act a certain way.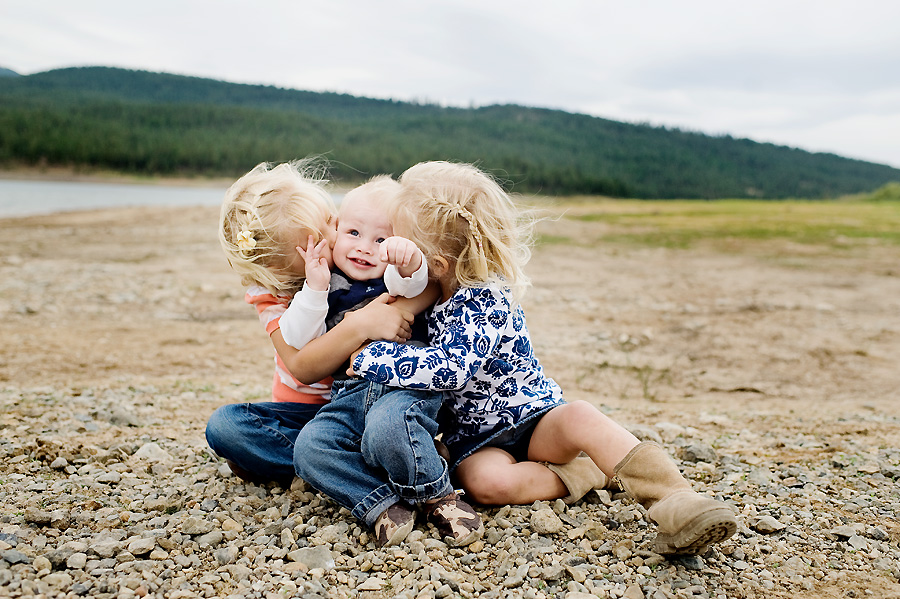 Lastly… make it happen. Don't wait. If you really truly can not make your budget work to hire a professional photographer, do all you can to get the best photos with the resources you do have. It may not be a popular thing amongst other photographers for me to tell you this, but, your memories are important and your family is worth documenting and if that means you set up a tripod and do it yourself – do it. I promise that the experience and outcome will be better when you invest in a pro, but don't sacrifice documenting your family just because you can't afford it. Make it happen. And then save up for next year – this is worth saving for.
There is never a great time to do family photos – 0ur schedules are busy, we're not as fit as we'd like to be, our kids acne is out of control… don't let these be reasons to wait. As much as I hate scare tactics, I will tell you that I have personally seen first hand several of my clients experience losses or changes in their family soon after having their portraits taken. They have always expressed such gratitude that they had those photos done at a time when they were possible. They shouldn't be thanking me, though, they need to thank themselves for doing what it took to get it on the calendar and make it happen. This is important and it's important right now. PSA over.
Now, it may surprise you to learn that I don't know everything. Shocker, right? If you have some great tips for successful family portraits, leave them in the comments!
 Learned something in this post? Hit that "pin it" button and share with your friends!