Friday Favorites | 12.18.15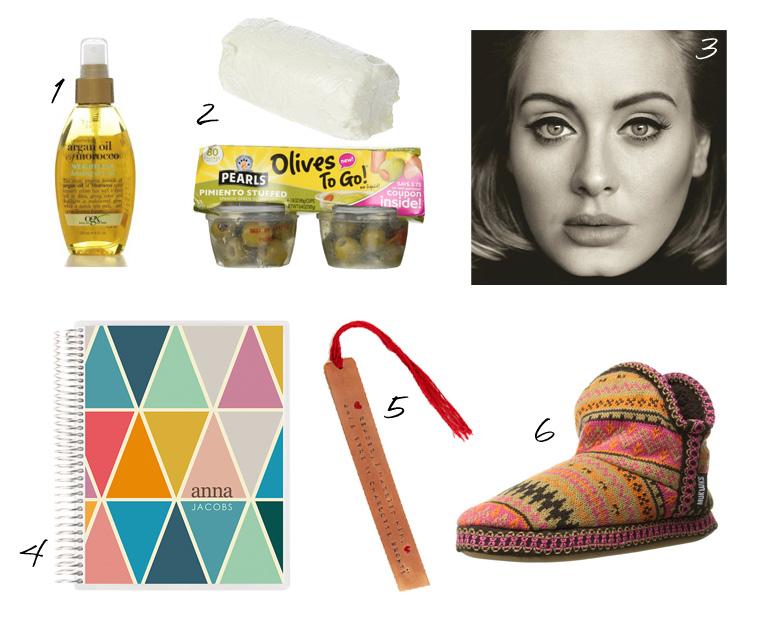 Friday is a good day for favorites, no? Here are a "few of my favorite things…" (yes, I'm singing to you!!)
1. Organix Argan Oil of Morocco Renewing Hair Treatment – I deal with dry hair that gets greasy quick. Riddle me that. It's super annoying. Anyway, I found this AWESOME argan oil spray and have used up nearly 2 bottles of it in the last 4 months. With daily use, usually just a spritz after styling, my dry hair is quenched and manageable yet still light and not weighed down in the least. Plus, it smells amazeeeeeiiiiinnnng… Would make a good stocking stuffer y'all!!
2. Goat cheese and green olives – Yes. Together. I know. Try it… seriously. This with a little deli turkey on top of a cracker is my favorite snack right now. I eat it almost every day. I have always been a big fan of pimiento stuffed olives! Aren't those to-go cups convenient and adorable, though?!! Love!
3. Adele's new album, 25 – So good!! We all know Adele is the bomb but her voice on this album is transcendent. The perfect "jammin' in the car while I wait to pick up my kids from school" album.
4. My Erin Condren Life Planner – My EC Life Planner is like my brain on paper. I'd be totally lost without it. I use the horizontal planner in Jolly Jester (isn't it CUTE?! I thought it matched my logo and just could NOT say no…). There are about a million awesome planner-gals on YouTube that share how they decorate and plan with their ECs. I, personally, minimally decorate mine but I do like to cute it up a bit now and then. I'll share more of my favorite planner accessories soon!! For now… take $10 off your first purchase when you use my referral link! https://www.erincondren.com/referral/invite/carlycarlson0128
5. Michelle Mach Jewelry & Gifts – I recently commissioned Michelle Mach to create some beautiful hand-stamped copper bookmarks (both the full sized style, pictured, and the smaller clip bookmark style, too) for the girls on my Usborne Books & More leadership team. They LOVED receiving them as gifts (the responses were so fun to hear!!) and I kept one for myself as well. ;) I just finished reading my first book using this bookmark and it just made the whole experience more special and enjoyable. Yes. A bookmark can do that… get one (and give one, too)!! :)
6. MukLuk Slippers – I luh-ovvvve my MukLuks. They are so fuzzy, cozy and warm. I wear them as my go-to house slippers and only change out of them when I must go outside. And even then, I sometimes pop them in my purse to take them to put on once I get to our destination (you know, like if I'm going to my parents house, I'd rather wear my comfy slippers than anything else!!)
—
Disclosure: This post contains affiliate links, however the opinions and views are entirely honest and my own!