A few of my favorite things + a sneak peek or two
I'm always on the hunt for good beauty products. I'm pretty picky, I'm kinda cheap, but I also understand somethings are worth investing in… skin care is so important. Regular washing and moisturizing helps our skin to age well, so take care of yourself!!
These are a few of my favorite skin care and beauty products – it takes a lot to make a big ol' pregnant lady feel good and these guys are like my little buddies every single day. I love them. :)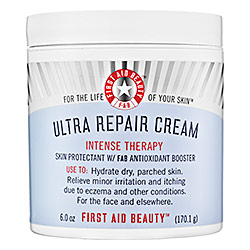 First Aid Beauty | Ultra Repair Cream <- click for more info!
I have always had combination skin, parts are oily and parts are dry. Around my nose, especially, is super dry to the point of cracking and peeling in the winter. Gross. A few months ago I was at Sephora and decided I needed to try something new – all my go-to products that have worked a time or two but never consistently were just on my nerves that day. I asked one of the clerks (what do you call the people that work the floor at a make-up store?? No idea…) and he flamboyantly and emphatically shoved this jar of awesome in my face.
And, now, I use it every single day. I use it on my kids sun burns and mosquito bites and it helps immediately. I use it on my face every single morning after my shower. It. is. awesome. It has completely done away with the dryness around my nose and the other weird patches I had, but it's still light and airy feeling. I have not had any breakouts or anything since I started using it, too, I think it's helping me have clearer skin that is oh-so-soft! It comes in a good sized jar (think 6 month supply if all you're using it for is your face… maybe longer). Oh, and, PS it's made without yucky ingredients like parabens, fragrances, sulfates, dyes, pthalates, GMOs, etc, etc…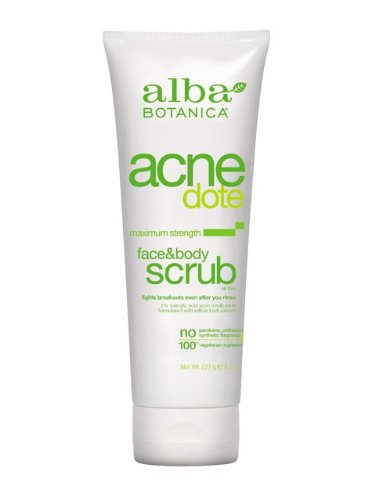 albaBOTANICA acnedote Face & Body Scrub <- click for more info!
I have been a loyal Mary Kay user since I was like 13. I still love Mary Kay and would never say anything bad about the brand or the products, because, seriously, I love them. But I have had some recurring breakouts that I just could not get to go away so I wanted to try a new product and see how it went. This albaBOTANICA acnedote scrub has quickly  become my absolute favorite face & body wash I have ever used. And my husband uses it too – it has shrunk his pores (mine, too, but seriously to get a man to use a facewash that shrinks his pores is so awesome! haha) and my skin is so much more even and smooth all over. I use it every day and my skin is so glowy and fresh looking all day. I love love love it. And it smells good. Like. Naturey delicious. Locals- I get mine at BiMart. Shop local, y'all (plus… it's cheaper locally, ha!)
No bad stuff in this product, either, 100% vegetarian, too! :)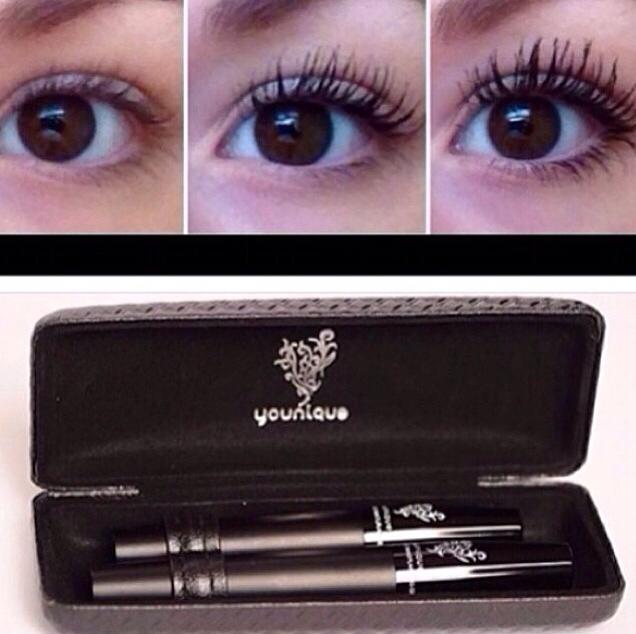 Younique Moodstruck 3d Fiberlash Mascara <- click for more info & to buy via my party – closes Monday 6/30!
 I love this stuff. I was super skeptical and it took me a few months of thinking about it to finally give it a shot. When I realized they have a love it guarantee I decided it'd be worth a shot- if I hated it, I'd get my money back. Well, unfortunately for my pocketbook, I LOVE it. :) So I'm hosting a party for my friend Tiffany, if you click on the link it'll take you directly to shop from my party and help me get some of this new addiction for free!
I literally have zero lashes naturally, so being able to swipe this on in the morning has been revolutionary. I have been really happy with a couple other drugstore brands of mascara but that's because I had no idea what I was missing. Once I gave this a try I was like "Ohhhhhhh, I get it now…"
Also love that it's all natural, cruelty free, cry-proof (as in, I watched The Fault in Our Stars, bawled through the whole thing, left looking like a normal human with eye lashes and no Alice Cooper running down my face), washes off easily with warm water at the end of the day… long-wearing… love it.
Want to see a few more natural beauties? :) Just a couple of sneak peeks from my most recent senior sessions. I have one shoot left before my maternity leave is officially ON. It's pretty unreal to me that the time is passing so quickly and before we know it I'll be "mom" to THREE kiddos. What the heck! Anyway- check out these good lookin' seniors and head over to the Facebook page to see more!